"It's one of the most fun and useful apps that I use"
More than 3,000 users from 34 countries participated in our 10-year user survey in March and April. We're especially thankful for the thousands of greetings and stories we received from respondents about their journeys with HeiaHeia.
Here are the highlights — in future posts, we'll be doing deep dives into specific themes and segments of users.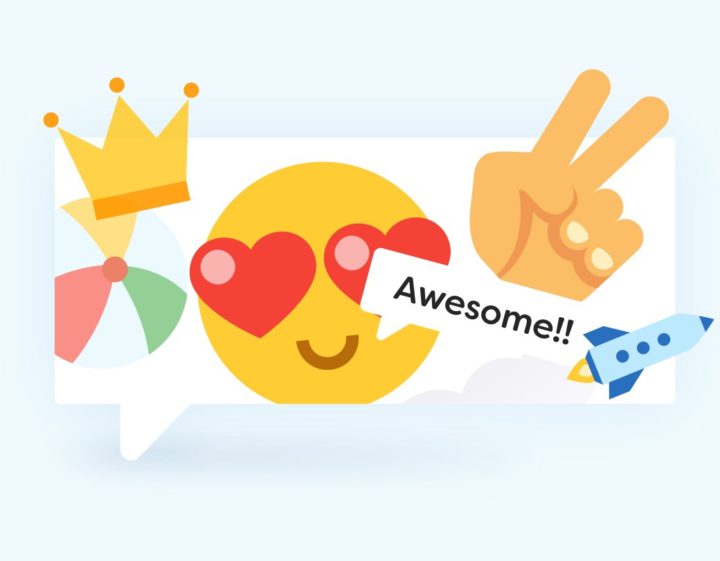 Digital wellbeing works for virtually anyone
The survey confirms that HeiaHeia users are a heterogeneous group. Perhaps most inspiringly, HeiaHeia has passionate users of varying backgrounds: people with chronic conditions as well as competitive athletes. The majority (63%) of respondents were women; there was a good distribution across age groups and the median age was approximately 40 years.
More than 81% of respondents confirmed HeiaHeia has helped them improve their wellbeing. Also, 71% of respondents specifically said HeiaHeia has improved their physical fitness. These findings were fairly consistent across different demographics.
"Videos about strength training have been insightful, tracking steps has become a habit, and my understanding of the importance of sleep has notably increased."
"I have kept my weight under control, and myself fit for work."
"It has made physical activity a lifestyle for me"
"This started in 2017, as part of a program coordinated by my employer, occupational health and a training center.. In the first year, I lost 10kg in weight and 10 cm in waist circumference.. as well as one-third of bad body fat. And of course my fitness went up … I even found running, which I had never done regularly before."
Easy to use, useful and social
We also asked about how and why one would use HeiaHeia. Three points kept coming up:
The ease of use and the "casual" experience of HeiaHeia
The value of personal data and statistics
The motivation from community: friends, colleagues, and family (many answers also highlighted the role of employers, schools and other organizations)
"HeiaHeia is part of my daily routine – just like brushing my teeth"
"It's one of the most fun and useful apps that I use"
"I have tracked my physical activity in different apps and now with HeiaHeia for about six months. I love how easy it is to use!"
"HeiaHeia is the only service I have used actively for the entire decade. It's really cool to look at statistics from years ago and see how different phases in my life have affected my weight and physical activity"
"My employer introduced HeiaHeia at a time when I was just returning to work after burnout. HeiaHeia was an instrumental factor in enabling my recovery".
HeiaHeia users are also using it as a personal wellbeing companion – to store wellbeing data as well as to access personal digital content and instructions.
– 62% have connected a wearable device
– 21% log their weight
– 15% have used the training programs and content (available on HeiaHeia's premium versions).
"I increased my activity during workdays with active breaks. A mom of two small kids got addicted to yoga after discovering the 15-minute yoga programs: they're short enough and you can relax after kids go to bed."
"When I started with HeiaHeia, I was sleeping reeeeeally badly, just 4 hours a night. My weight was in three digits. Over the years, little by little, with the assistance of HeiaHeia, I have understood that I was not taking care of myself. All I could do was to kick myself in the butt. Now I sleep even eight hours, eat more regularly and exercise in small amounts throughout the day. Heading towards a better future, over 25 kilograms lighter than before"
Encouragement and support from one's social connections – friends, family and colleagues – is an important motivator for sustaining healthy habits, and this clearly shows in our survey as well: More than 70% of HeiaHeia users have connected with friends on the platform, and 43% have more than five friends.
"We took HeiaHeia into use at school and it's been nice to receive cheers from my teacher and my friends. It's also been nice to cheer my friends"
"I retired 10 years ago and began exercising actively. I ran into HeiaHeia in 2014 and since then my wife and I have our activity statistics on HeiaHeia. The statistics motivate us to continue our frequent and diverse physical activity :)"
Speaking of diverse physical activity, in the graph below, we plotted the relative popularity of certain activities over the course of the first ten years. The ranking is based on the total number of activities logged in that year. It's easy to see some trends here.
Yoga has consistently improved its popularity, whereas Zumba has been in a decline since its heyday in early 2010s
Crossfit has established itself as a mainstream activity
Skiing has remained consistently near the top: the occasional bad winters appear to be compensated by the fact that each calendar year touches on two skiing seasons.
Walking the dog has stayed exactly at #5 throughout the years, although its popularity has gone up lately with the corona outbreak 🙂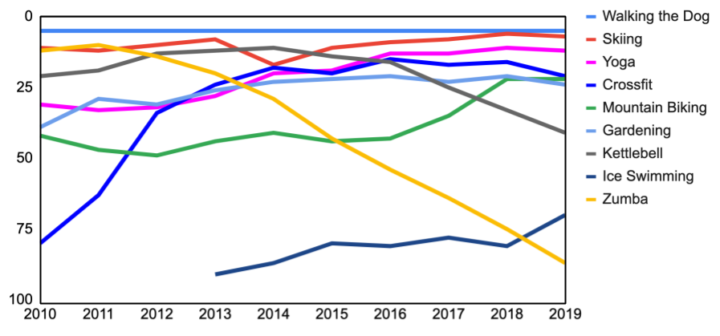 Interest in digital programs and coaching
We also asked what HeiaHeia users think about certain wellbeing concepts.
– 95% were interested in personal digital programs and reminders for changing a habit or achieving a goal. 24% of respondents considered them extremely interesting.
– 86% would be interested in receiving remote coaching over HeiaHeia. More than 20% considered this extremely interesting.
– 84% would be interested in group coaching, and 17% consider it extremely interesting.
"I joined a rehabilitation group sponsored by my employer in the autumn of 2019, and the group was using HeiaHeia. I have increased my physical activity mainly because of this service. I have also paid attention to sleep and especially to the time I go to bed. So as the result, I sleep longer and exercise more than before. Especially the home workout programs have been really enjoyable"
Wellbeing programs bear fruit
A significant part of the respondents – nearly 40% – would like their employer to sponsor wellbeing programs. There were also literally hundreds of personal stories from users who had made lifestyle changes thanks to their employer, occupational health, or school having introduced the HeiaHeia group solution. If you're an employer reading this, visit www.heiaheia.com/workplaces for more information and contact us to get started!
"It's been great to see how the HeiaHeia training program gave my colleague the push to exercise and improve her wellbeing"
"During the wellbeing program at work, I actively used the programs and features of HeiaHeia. I managed to improve my fitness, especially strength, significantly in six months. I have liked the programs also after that."
Stay tuned for more..
From thousands of responses, we received very good input for our development. We've already made improvements in the mobile app, content, and group administrator features, and you'll be seeing even more updates over the next few weeks and months.
We'll also be announcing the lucky winners of the Oura ring and t-shirts soon..
Thanks again for all the respondents — we're looking forward to the next 10 years together!