---
Relax Gaming is a B2B gaming solutions provider driving innovative solutions and offerings to the iGaming market.
---
Relax rolled out HeiaHeia as their digital wellbeing platform in July 2020, kicking off with an activity challenge that engaged employees from different countries in a team contest. Since then, a number of initiatives have been launched on the HeiaHeia platform.
Anna Bärling, Group Office Manager at Relax, is a key member of the Relax Gaming team and has been inspiring her colleagues and wellbeing initiatives since 2016. As a rapidly growing company operating eight offices, she prioritizes tools that bring staff together, despite any physical distance. The latest wellbeing project has been the largest yet, reaching 200+ staff and has been executed seamlessly. Anna is active herself and selected HeiaHeia due to its flexibility, easily digestible video functionalities and options to cater for a wide range of interests and abilities.
Let's hear Anna share her experiences:
Relax Gaming has offices in six countries in Europe, and there has always been frequent traveling between the locations; people getting together for meetings, team building, and other fun events. This spring changed everything, and we at Relax Gaming decided to pay even more focus on our employees' wellbeing, both mental and physical. For us to carry out our plans in the most efficient way we knew we would need a good tool to support us, and we found that in HeiaHeia.
HeiaHeia has been the perfect tool to keep our teams in touch and motivated throughout lockdown and remote working. The app turned into a social platform, with colleagues sharing photos and commenting while encouraging each other to stay active throughout our various Wellness and Physical Activity Projects.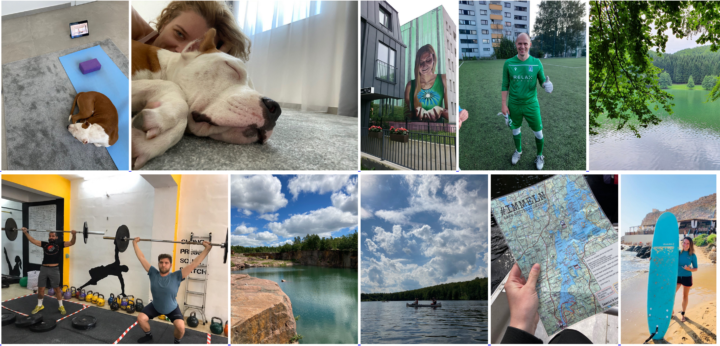 We have received great support from the HeiaHeia team; they have replied rapidly to all our questions and shared their expert advice regarding campaign ideas with us.
Our ambitious 'Walk to the Moon' challenge stands out, bringing remote teams together with a common objective and injecting some healthy competition and entertainment along the way. HeiaHeia ties in perfectly with our goal to keep our people front-of-mind and we highly recommend it!