What is HeiaHeia?
For a decade, HeiaHeia has encouraged well-being and exercise by making it more fun. Everything is based on peer support: the example of like-minded friends and colleagues inspires and encourages an active lifestyle. Your personal user account at HeiaHeia, which contains your wellness data and friendship connections, is a free service. In addition, we sell the popular HeiaHeia for Workplaces service to organizations of various sizes for managing effective and fun wellbeing programs.
For organizations, HeiaHeia enables powerful challenges such as team competitions and common goals, provides useful guidance toward better well-being with digital programs and coaching tools, and offers real-time data and reporting for those planning wellbeing. The service has worked particularly well during the COVID pandemic – read more about our customers' experiences on our blog!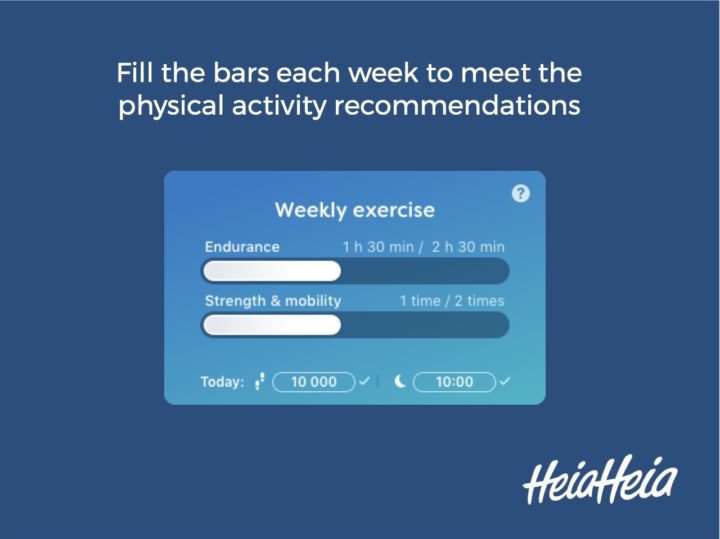 HeiaHeia 3.0
Better use of one's personal well-being data has been the number one wish of our user community in user surveys throughout the years.
The main novelty of the updated HeiaHeia mobile apps is a completely new page for your personal well-being information. Our service is increasingly based on health recommendations – your data now tells you whether you have moved, slept or taken enough steps for your own health.
So the idea of HeiaHeia is not, for example, to optimize athletic performance, but to provide long-term motivation for a healthy lifestyle. Our intention is to highlight in particular the things that have been researched to have the greatest impact on your health – often these are the little everyday wellbeing actions we all have the opportunity to do. At the same time, HeiaHeia is a flexible tool for tracking various personal and shared goals.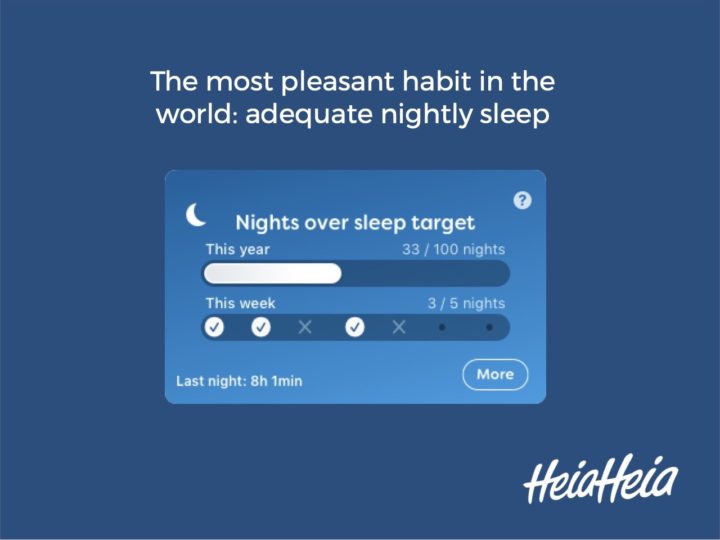 HeiaHeia 3.0 opens a series of updates to bring more features to the use and tracking of your own well-being data, to creating habits, and to the large-scale wellbeing promotion in work communities (including team competitions, common goals, surveys, programs and wellbeing points for rewards).
Please help us make HeiaHeia even better: tell us what you think of the update! Answer four short questions here: Feedback survey