Arla was chosen as "Finland's most active workplace" at the Sports Gala on 12 January 2023 in Helsinki, Finland. The company launched its wellbeing program with the HeiaHeia application already in 2021 with an open-minded approach towards the digital wellbeing solution. Read more about Arla's achievements and how it has managed to activate its employees and increase the sense of community within the company.
Arla Oy is the Finnish part of Arla, one of the world's largest dairy companies. Arla Finland offers consumers natural flavors from Finland and the world. The company is embarking on a journey towards a carbon-neutral future and is constantly bringing consumers new opportunities for sustainable choices. In Finland, Arla employs 400 people.
Arla Finland deployed HeiaHeia and launched its wellness program in January 2021. The results are impressive:
A large part of Arla's staff has become active in the community, got to know each other across the organization and encouraged each other more than 120,000 times
Employees have made more than 20,000 healthy micro actions, increased the amount of exercise and paid more attention to lifestyle habits such as regular breaks and adequate water intake.
---

"We want to promote exercise and wellbeing for all. HeiaHeia and the ongoing Walk to the Moon have been a great thing: as many as two hundred of our colleagues are doing it together. Inspired by the challenge, I myself have collected about a thousand kilometers of indoor cycling and walking."

Kai Gyllström, who served as the Arla Finland managing director during the first months of the challenge, before transferring to Arla Sweden
---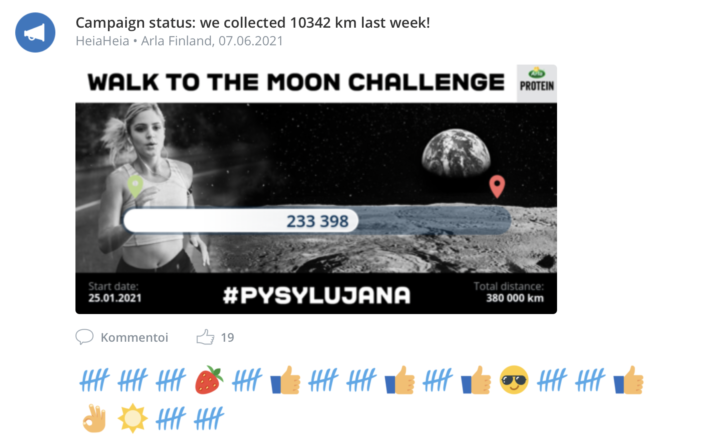 Arla: a versatile approach to promoting wellbeing and ability to work
Tiia Lappalainen is responsible for wellbeing and ability to work at Arla. She considers the promotion of healthy lifestyles in the community and staff an important element in maintaining working capacity as a whole.
Doing things together is a key part of Arla's core. Arla has e.g. several active staff clubs. In matters of work ability, Arla works in close co-operation with occupational health provider Mehiläinen. Arla has also invested heavily in on-site wellbeing, where the physical and cognitive well-being of personnel has been taken into account extensively. The personnel have access to e.g. electric adjustable desks, walking mats, exercise equipment, a gym and a swimming pool, and so on.
Challenge: Team spirit and maintaining one's own wellbeing at risk
The basic pillars of work ability support were under threat after the COVID pandemic struck, and Arla began looking for a new solution. "COVID made it difficult for e.g. staff clubs to operate, and new means were needed to maintain a sense of community. We also found that taking care of one's own wellbeing began to lag behind. This was especially evident among people doing office work," says Tiia. "For people working in production, we wanted to bring tools to support one's own activity and nurture the strong spirit of our company."
Download a report on the impact of the corona pandemic and remote working on employee wellbeing:
Tiia says the idea came from Arla in the UK, who had come up with a way to support their sense of community. The goal was to reach the Moon, i.e. 380,000 kilometers, by moving together. "We are set on high goals, so we decided to reach the same goal with the help of our much smaller Finnish organization – we can do it!"
Wellbeing Program Criteria: Easy to participate, easy to organize
Arla needed a tool to accomplish the challenge: it should make employee participation easy (e.g., enable utilization of existing applications and smart devices) and save time for the organizers. Among other things, automation of tracking was an important requirement, so the use of Excel, for example, was out of the question.
Arla discovered the HeiaHeia application based on a recommendation by a colleague. According to Tiia, from Arla's point of view HeiaHeia ticks several essential boxes:
HeiaHeia offers a comprehensive range of language versions (e.g. Finnish, Swedish, English)
Participation in challenges is easy, thanks to a mobile app and a browser version
HeiaHeia provides connectivity with smart devices (Garmin, Polar, Apple Health, Google Fit etc.)
Tracking the company's common goals and team goals is very easy
The HeiaHeia platform can be utilized in the continuous promotion of well-being and sense of community, and it complements the cooperation between Arla and Mehiläinen regarding occupational health services
Deployment was completed swiftly in a compact schedule.
After four months, it's good to look at the results and check how the goals have been met.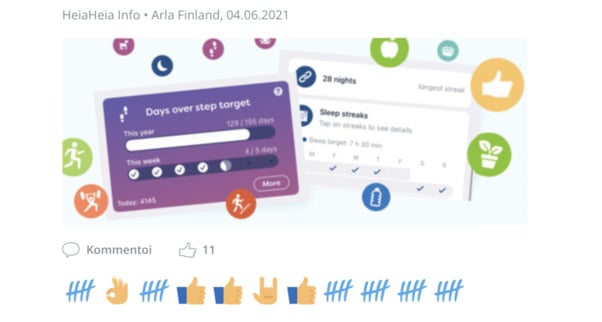 "The best a company can come up with"
Tiia sums up Arla's experience: "The best thing has been noticing how positively our awesome staff has taken it. The biggest thank you for the success goes to our entire staff. The concept has been perceived as positive and some employees commented that this is the best that a company can come up with for the COVID situation."
Goals achieved – new cohesion and active everyday life
The goal of nurturing a valuable community has been achieved. The personnel have come together in a positive way across departmental boundaries, e.g. finding new common hobbies. "You learn things from others that you wouldn't learn at the lunch table," says Tiia, who herself has received requests to go play padel with colleagues who are unfamiliar to her and who have noticed her practicing the sport. "At its best, games have people from multiple departments, and games can be started by getting to know others".
Involving people from different age groups and activity levels – top management setting an example
HeiaHeia is not just for active people and health enthusiasts. "We involve just about all kinds of people from different age groups and starting points," Tiia opens. "In HeiaHeia, the main thing is not to compete against others, but to motivate by encouraging positive action and finding new ways to promote one's own wellbeing."
The wellbeing program has been seen as extremely important in Arla, all the way to the top management: even on a daily basis, statistics and achievements have been exchanged with the CEO. Top management has also set an example by actively participating itself and regularly raising the importance of wellbeing for all staff.
The original goal, too, is distinctly clear in mind: "Yeah, and that wildly long-sounding journey to the Moon. We're already more than halfway through. We have accumulated more than 280,000 kilometers together. More than 22,000 healthy actions and the fact that most exercise more than 2.5 hours a week bear testimony to our success."
If you'd like to see how your organisation could benefit from a wellbeing challenge, visit the HeiaHeia website to learn more about the product – and contact us to get started!